Our Adult Faith Formation ministry seeks to engage the particular needs and interests of the parish family. To be faithful and effective it will offer, over time, a comprehensive and systematic presentation and exploration of the core elements of Catholic faith and practice—a complete initiation into a Catholic way of life. It will do so in a way that is accessible to adults and relates to their life experiences, helping them to form a Christian conscience and to live their lives in the world as faithful disciples of Jesus.
St. Boniface Church, the Adult Faith Formation office offers a variety of opportunities for parishioners to increase their understanding of the faith.  Listed below are thecurrent opportunities.
Rite of Christian Initiation of Adults (RCIA)
If you or someone you know is interested in knowing more about the Catholic faith or becoming a member of the Catholic faith, we invite you to RCIA (the Rite of Christian Initiation for Adults).  RCIA is a 7 month process of getting to know about/becoming a member of the Catholic faith.  We meet most Monday evenings 6:30 to 8:00 p.m. from September 8, 2014 until the Easter Vigil.  Older children, ages 6-13, who wish to be baptized into the Catholic faith have their own sessions on Monday evenings at the same time as RCIA.  This program for the children is called RCIC (the Rite of Christian Initiation for Children).  If you wish more information, contact the Parish Office at 656-6450 or Robin Black-Rubenstein at rblackrubenstein@st-boniface.com. All RCIA classes are open to all parishioners.  Parishioners are always welcome to attend and renew and deepen their understanding of the teaching and Traditions of the Catholic Church.  Check the bulletin for current topics and meeting information.
Martha and Marys
Martha and Marys are a Women's Spirituality and Support Group. We meet every Tuesday during the school year after the 8:00 a.m. Mass until 10:00 a.m.  The group chooses a book to read and discuss at our weekly meetings.  There is much talk and a lot of laughter as we share the ups and downs of our everyday lives as well as our spiritual lives.  All are welcome. It is not necessary to be present for every meeting to benefit from this group.  Come as you are able.  We meet in the Acorn Room in the lower level of the Church.
The University of Dayton has paired with the Springfield Diocese to provide faith formation through Virtual Learning Community for Faith Formation (http;//vlc.udayton.edu/).  Please visit the web site for more information and to register for classes.
Menu of Spirituality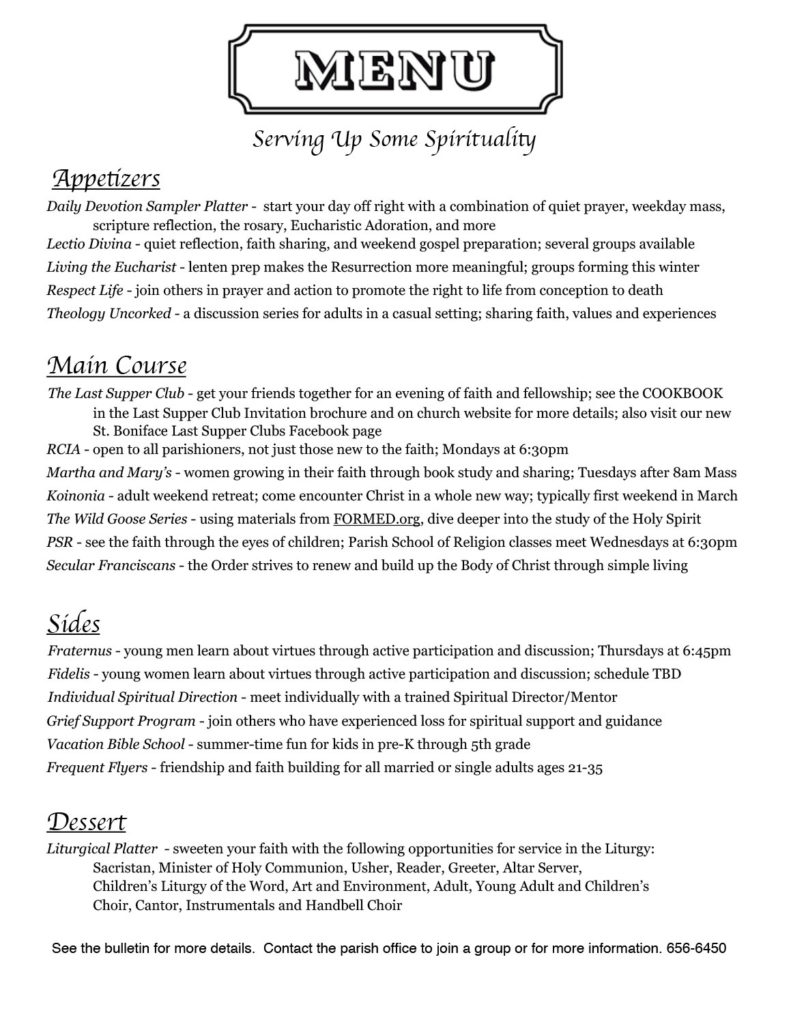 Grief Support Program
St. Boniface offers grief support
"After Care"
First Wednesday of Every Month
@ 10:00 am
Contact Mary Winkler for more information:
(316) 712-9589
Adult Faith Formation Events
St. Boniface Koinonia Retreat
An opportunity for individuals to encounter Jesus Christ through an experience of Christian Community.  Friday March 2- Sunday March 4.  All meals included.  Dismissal each night and return in the morning.  Sunday ends approximately 4 p.m.  Contact the parish office or email rblackrubenstein@st-boniface.com